DesignaKnit communicates with your knitting machine via a cable between your computer and the knitting machine. Soft Byte developed during the development of DesignaKnit also a set of cables to connect your computer to your knitting machine. These cables use a serial port of your computer.

The Silverlink 4 provides both serial and USB connectivity.
All other cables are only available in the serial variant. In order to attach a serial cable to a USB port, you currently need a qualified USB to serial converter.

We have developed a set of cables that interfaces directly to a USB port without the need of an additional USB to serial converter. The cables have the same functionality as the Brotherlink cables with the same number. The difference (apart from a complete new design) is that you no longer need a serial port on your PC. You now hook up your knitting machine to your PC via USB.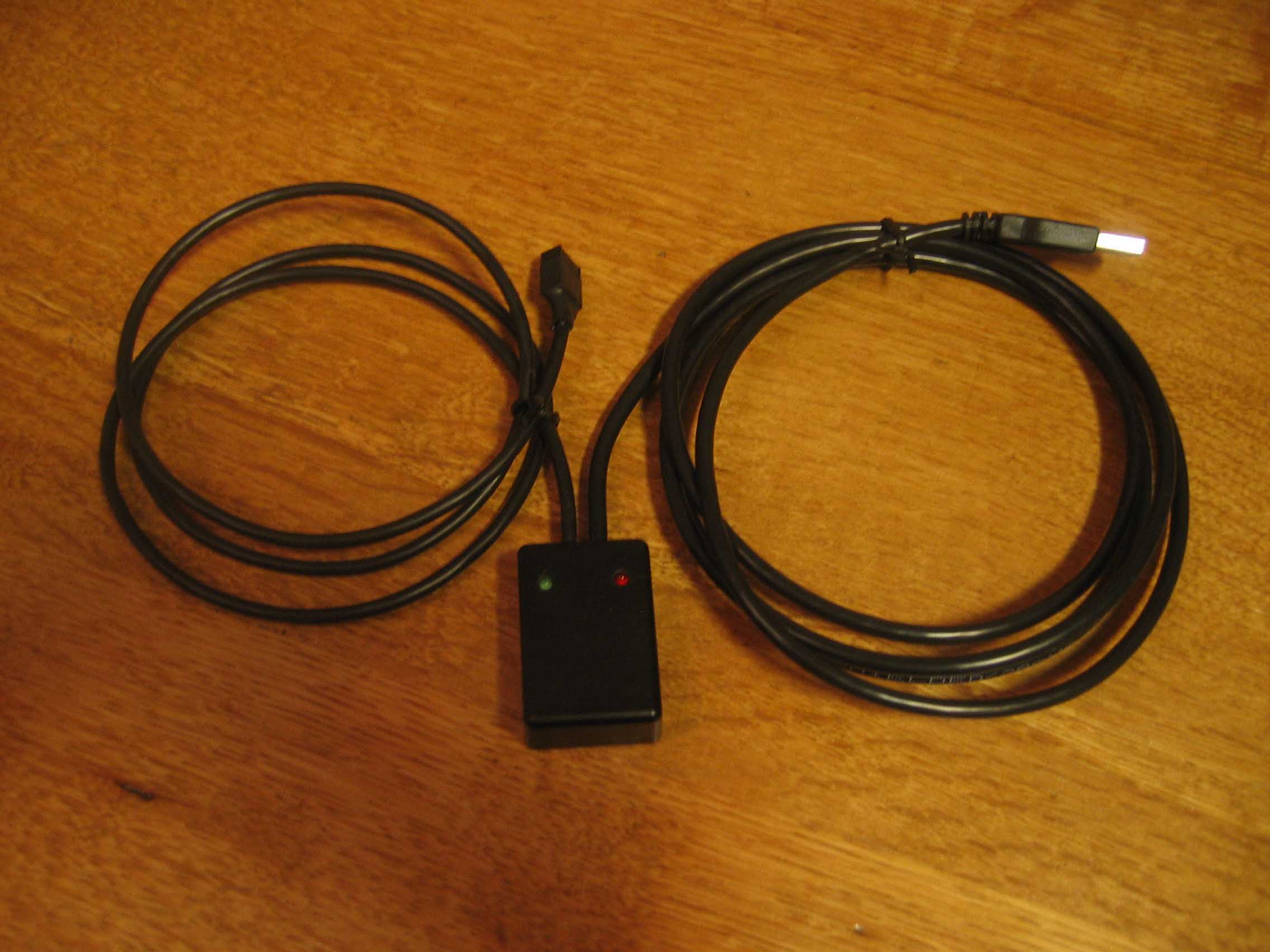 DesignaKnit Versions
DesignaKnit 6 (6.11 and above)
DesignaKnit 7 (7.14 and above)
DesignaKnit 8
DesignaKnit 9
16/32 bit Operating Systems
Windows 98
Windows ME
Windows 2000
Windows XP
Windows 2003
Windows Vista
Windows 2008
Windows 7
Windows 8 & 8.1
Windows 10
64 bit Operating Systems (*)
Windows XP x64
Windows 2003 x64
Windows Vista x64
Windows 2008 x64
Windows 7 x64
Windows 2008 R2 x64
Windows 8 & 8.1 x64
Windows 2012 x64
Windows 10 x64
* DesignaKnit 6 and 7 don't run on 64 bit operating systems.


| PC Connectivity | Power |
| --- | --- |
| Series A USB connector | Derived from USB |
Diagnostics
LED Green
PC sends data to the knitting machine
LED Red
Knitting machine or IK option sends data to the PC
Available Cables
Product
Description
Notes
Knitting machines
BL1USB
Brotherlink 1 USB
KH940, KH950i, PPD(KH900,CK35)
BL3USB
Brotherlink 3 USB
PPD (except BL1USB)
BL5USB
Brotherlink 5 USB
KH970, KH965i, KH950i, KH940, KH930
BL6USB
Brotherlink 6 USB
BL3USB+IK
BL7USB
Brotherlink 7 USB
FB100
Cartridge
USB stitch pattern cartridge
KH900, KH965, HK970, KH270, CK35
EL1USB
E6000Link 1 USB
***
Passap/Pfaff E6000
EL3USB
E6000Link 3 USB
EL1USB+IK
EL13Sw
E6000Link 1/3 Switch
EL1USB, EL3USB, EL1 serial
E8L1USB
E8000Link 1 USB
Passap/Pfaff E8000
E8L3USB
E8000Link 3 USB
E8L1USB+IK
SLUSB
Screenlink USB
punch card & non-electronic machines
*** Win_Crea users, click here for additional information.

Below you find a table that provides cable options per knitting machine.
Please consult the table to work out which USB cable is appropriate for your knitting machine.

Machines and USB cable options

| Brother | USB Cable | Upload | Download | Interactive Knitting | Serial Cable | KnitKing | Erka |
| --- | --- | --- | --- | --- | --- | --- | --- |
| KH900 | Cartridge | CartUtil | CartUtil | Yes, IK option required | | CompuKnit ST | |
| | SLUSB | No | No | Yes | SL | | |
| KH910 | SLUSB | No | No | Yes | SL | CompuKnit II | Erka 80 |
| KH930 | BL5USB | Yes | Yes | Yes | BL5 | CompuKnit III | Erka 85 |
| | BL1USB | Yes | Yes | No | | | |
| KH930M | BL5USB | Yes? | Yes? | Yes | BL5 | | |
| | BL1USB | Yes? | Yes? | No | | | |
| KH940 | BL1USB | Yes | Yes | Yes | BL1 | CompuKnit IV | Erka 90 |
| | BL5USB** | Yes | Yes | Yes | | | |
| KH950 | SLUSB | No | No | Yes | SL | | |
| KH950i | BL1USB | Yes | Yes | Yes | BL1 | | |
| | BL5USB** | Yes | Yes | Yes | | | |
| KH965 | Cartridge | CartUtil | CartUtil | Yes, IK option required | BL4 | CompuKnit V | |
| | SLUSB | No | No | Yes | SL | | |
| KH965i | BL5USB | Yes | Yes | Yes | BL2 or BL5 | CompuKnit V cx | |
| | BL1USB | Yes | Yes | No | | | |
| | Cartridge | CartUtil | CartUtil | Yes, IK option required | BL4 | | |
| KH970 | BL5USB | Yes | Yes | Yes | BL5 | CompuKnit V Star | |
| | BL1USB | Yes | Yes | No | | | |
| | Cartridge | CartUtil | CartUtil | Yes, IK option required | | | |
| KH270 | Cartridge | CartUtil | CartUtil | Yes, IK option required | BL4 | | |
| CK35 | Cartridge | CartUtil | CartUtil | Yes, IK option required | | | |
| FB100 | BL7USB | FB100 Utility | FB100 Utility | No | | | |
| E6000 | EL1USB | No | Yes | No | EL1 | | |
| | EL3USB | No | Yes | Yes | EL1+SL | | |
| E8000 | E8L1USB | No | Yes | No | | | |
| | E8L3USB | No | Yes | Yes | E8000Link | | |
| Other | SLUSB | No | No | Yes | SL | | |
** enables you to knit model only

Users, who have a knitting machine and want to use the PPD too, have on top of the table above, also the options in the table below.
Please consult the table below to work out which USB cable is appropriate for your knitting machine + PPD.

Machines + PPD and USB Cable options

| Brother | USB Cable | Upload | Download | Interactive Knitting | Serial Cable | KnitKing | Erka |
| --- | --- | --- | --- | --- | --- | --- | --- |
| KH900 | BL5USB | Yes | Yes | Yes | BL1+SL | CompuKnit ST | |
| | BL1USB | Yes | Yes | No | BL1 | | |
| KH910 | NA | | | | | CompuKnit II | Erka 80 |
| KH930 | BL3USB | Yes | Yes | No | BL3 | CompuKnit III | Erka 85 |
| | BL6USB | Yes | Yes | Yes | BL3+SL | | |
| KH930M | BL3USB | Yes | Yes | No | BL3 | | |
| | BL6USB | Yes | Yes | Yes | | | |
| KH940 | BL3USB | Yes | Yes | No | BL3 | CompuKnit IV | Erka 90 |
| | BL6USB | Yes | Yes | Yes | BL3+BL1 | | |
| KH950 | NA | | | | | | |
| KH950i | BL3USB | Yes | Yes | No | BL3 | | |
| | BL6USB | Yes | Yes | Yes | BL3+BL1 | | |
| KH965 | BL3USB | Yes | Yes | No | BL3 | CompuKnit V | |
| | BL6USB | Yes | Yes | Yes | BL3+SL | | |
| KH965i | BL3USB | Yes | Yes | No | BL3 | CompuKnit V cx | |
| | BL6USB | Yes | Yes | Yes | BL3+SL | | |
| KH970 (*) | BL3USB | Yes | Yes | No | BL3 | CompuKnit V Star | |
| | BL6USB | Yes | Yes | Yes | BL3+SL | | |
| KH270 | BL3USB | Yes | Yes | No | BL3 | | |
| | BL6USB | Yes | Yes | Yes | BL3+SL | | |
| CK35 | BL5USB | Yes | Yes | Yes | BL1+SL | | |
| | BL1USB | Yes | Yes | No | BL1 | | |
* In KH940 mode

Terminology:
Upload: transfer patterns from the knitting machine to your PC
Download: transfer patterns from your PC to the knitting machine
IK: DesignaKnit Interactive Knitting
CartUtil: driver program for Cartridge