&nbsp
DesignaKnit communicates with your knitting machine via a cable between your computer and the knitting machine. Soft Byte developed during the development of DesignaKnit also a set of cables to connect your computer to your knitting machine. These cables use a serial port of your computer.

In 2003 we developed the SilverLink 4 to resolve the problems concerning mispatterning caused by the fact that Windows cannot work real time. The SilverLink 4 provides both serial and USB connectivity.

In 2014 we developed the Silverlink 4 SE. The Silverlink 4 SE has the same functionality as the earlier model SilverLink 4 USB, plus a built-in wireless (Bluetooth) connection to your PC.

We have also developed the SilverLink 3 USB. The SilverLink 3 USB can be connected directly to a USB port on your pc without the need for a serial to USB converter. The SilverLink 3 USB has the same functionality as the current SilverLink 3. The difference (apart from a complete new design) is that you no longer need a serial port on your PC and that the EC1 or the knitting machine is no longer required for transfer of pattern from and to the PE1. You hook up your PE1 to your PC via USB.

The SilverLink 6 USB combines the functionality of the SilverLink 3 USB and the ScreenLink USB. You can transfer patterns to the PE1 like yo would do with the SilverLink 3 USB and you can knit interactive like you would do with a ScreenLink USB.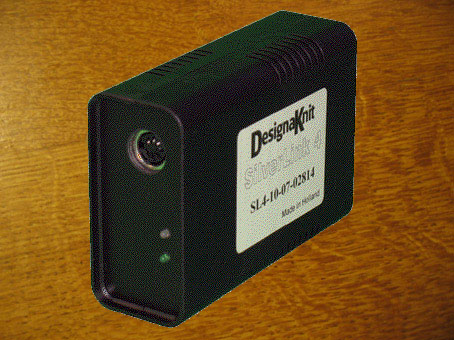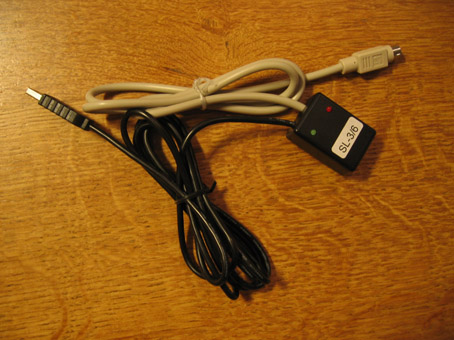 Cable
DesignaKnit Versions
SL4
DesignaKnit 7 (7.14 and higher, 7.19 recommended)
DesignaKnit 8
SL/SL3/SL6
DesignaKnit 6 (6.11 and higher)
DesignaKnit 7 (7.14 and higher)
DesignaKnit 8
16/32 bit Operating Systems
Windows 98
Windows ME
Windows 2000
Windows XP
Windows 2003
Windows Vista
Windows 2008
Windows 7
Windows 8 & 8.1
Windows 10
64 bit Operating Systems (*)
Windows 2003 x64
Windows XP x64
Windows Vista x64
Windows 2008 x64
Windows 7 x64
Windows 2008 R2 x64
Windows 8 & 8.1 x64
Windows 2012 & 2012 R2 x64
Windows 10 x64
* DesignaKnit 6 and 7 don't run on 64 bit operating systems.


Cable
PC Connectivity
Power
SL4
Series A USB connector
DCE RS232 connector
External 110-230 V power supply
SL4USB
Series A USB connector
External 110-230 V power supply
SL4SE
Series A USB connector
Bluetooth
External 110-230 V power supply
SL/SL3/SL6
Series A USB connector
Derived from USB
cable
Diagnostics
SL4
LED Green
Power is supplied to Silverlink 4
LED Red/Green
Needle is selected or not selected
LED Red/Green
Green: RS232/Bluetooth, Red: USB
SL/SL3/SL6
LED Green
PC sends data to the knitting machine
LED Red
Knitting machine or IK option sends data to the PC
Available Cables
| Product | Description | Knitting machines |
| --- | --- | --- |
| SL4USB | Silverlink 4 USB | SK550, SK560, SK580, SK830, SK840, SK860, SK890, 560LC, LC580, LC830, AG50 |
| SL4RS232 | Silverlink 4 RS232 | SK550, SK560, SK580, SK830, SK840, SK860, SK890, 560LC, LC580, LC830, AG50 |
| SL4SE | Silverlink 4 SE | SK550, SK560, SK580, SK830, SK840, SK860, SK890, 560LC, LC580, LC830, AG50 |
| SL3USB | Silverlink 3 USB | PE1 |
| SL6USB | Silverlink 6 USB | SL3USB+IK |
| SLUSB | Screen link USB | punch card & non-electronic machines |

Below you find a table that provides cable options per knitting machine.
Please consult the table to work out which USB cable is appropriate for your knitting machine.

Machines and USB Cable options

| Machine | USB Cable | Upload | Download | Interactive Knitting | Serial Cable |
| --- | --- | --- | --- | --- | --- |
| SK550 | SL4USB | No | Yes for IK | Yes | SL4RS232 |
| SK560 | SL4USB | No | Yes for IK | Yes | SL4RS232 |
| SK580 | SL4USB | No | Yes for IK | Yes | SL4RS232 |
| SK830 | SL4USB | No | Yes for IK | Yes | SL4RS232 |
| SK840 | SL4USB | No | Yes for IK | Yes | SL4RS232 |
| SK860 | SL4USB | No | Yes for IK | Yes | SL4RS232 |
| SK890 | SL4USB | No | Yes for IK | Yes | SL4RS232 |
| 560LC | SL4USB | No | Yes for IK | Yes | SL4RS232 |
| LC580 | SL4USB | No | Yes for IK | Yes | SL4RS232 |
| LC830 | SL4USB | No | Yes for IK | Yes | SL4RS232 |
| AG50 | SL4USB | No | Yes for IK | Yes | SL4RS232 |
| PE1 | SL3USB | Yes | Yes | No | SL3 |
| | SL6USB | Yes | Yes | Yes | SL3+SL |
| Other | SLUSB | No | No | Yes | SL |


Terminology:
Upload: transfer patterns from the knitting machine to your PC
Download: transfer patterns from your PC to the knitting machine
IK: DesignaKnit Interactive Knitting

&nbsp